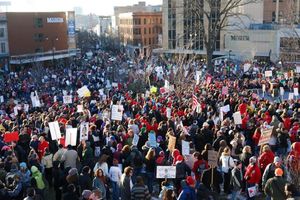 Tens of thousands of demonstrators converged on Wisconsin's state Capitol on Saturday to protest Republican Gov. Scott Walker's plan to curb public sector union power in order to balance the budget.
Waving hundreds of American flags and singing the national anthem, the demonstrators were peaceful and the swelling crowds upbeat despite a setback earlier in the week when the state Assembly approved the measure over Democratic objections.
What began two weeks ago as a Republican measure in one small U.S. state has turned into what could be the biggest challenge to union power since then President Ronald Reagan fired striking air traffic controllers nearly 30 years ago.
If Republicans prevail in Wisconsin, a number of other states governed by conservative majorities could follow. Already, other legislatures including Ohio, Indiana, Iowa, Idaho, Tennessee, and Kansas are working on union curbs.