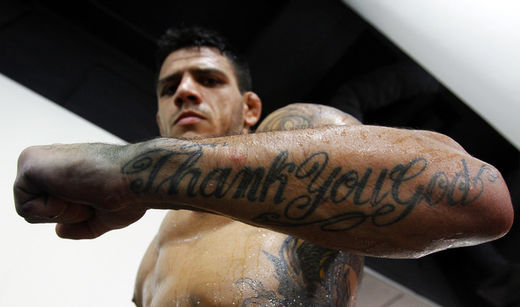 "Can you love your neighbor as yourself, and at the same time knee him in the face as hard as you can?" American Christian Mixed Martial Arts (MMA) champion Scott "Bam Bam" Sullivan
wonders
in an interview with
The Times
(London).
Today
over 700 evangelical US churches
now integrate MMA
(also known as cage-fighting) into their ministry programs
. The phenomenon has even been featured in a recent documentary film, 2014's
Fight Church
.
MMA is a combination of kickboxing, Brazilian jiu-jitsu, Greco-Roman wrestling and Thai boxing. Fighters face off against one another, brutally inflicting pain by punching, kicking, kneeing, and elbowing their opponents into submission. The intensity of the sport's violence caused Senator John McCain to call for an outright ban on MMA in the US. He
denounced it
as "human cockfighting," a "blood sport," and a "blood bath."