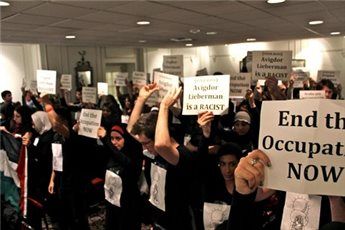 Thousands of University of Michigan students woke up Tuesday morning to faux eviction notices slipped underneath their dorm room doors.
"If you do not vacate the premises by 13 DEC 6PM, we reserve the right to demolish your premises without delay," the notices read.
"We cannot be held responsible for property or persons remaining inside. Charges for demolition will by applied to your student account."
The mock eviction was orchestrated by the student organization Students Allied for Freedom and Equality to raise awareness about the actual Israeli-directed evictions that are carried out on a regular basis in the Palestinian West Bank and East Jerusalem, in addition to the Negev.
"When Palestinians lose their homes to unjust and illegal demolition/eviction notices, they are also robbed of their dignity, human worth, and livelihood,"
SAFE said in a statement.