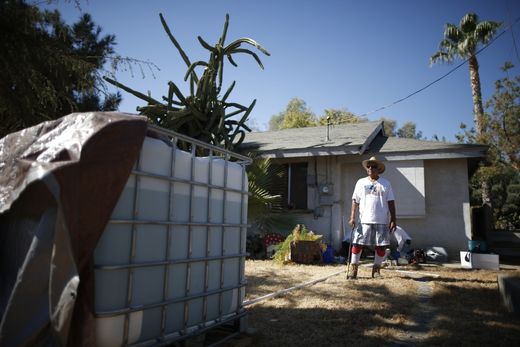 In one of the towns hardest hit by California's drought, the only way some residents can get water to flush the toilet is to drive to the fire station, hand-pump water into barrels and take it back home.
The trip has become a regular ritual for East Porterville residents Macario Beltran, 41, and his daughters, who on a recent evening pumped the water into containers in the bed of his old pickup truck to be used for bathing, dish washing and flushing.
As if to emphasize the arid conditions that led them there, an emergency broadcast warned of a brewing dust storm.
The state's three-year drought comes into sharp focus in Tulare County, the dairy and citrus heart of the state's vast agricultural belt, where more than 500 wells have dried up.
Donna Johnson's tap went dry in June. Since then she's been trying to help neighbors connect with help from the county and the state. She began making door-to-door deliveries of water donated by charities and such supplies as hand sanitizer - often in withering 100-degree heat.
"I saw all these people who couldn't take a shower: kids, pregnant women," the 72-year-old said.