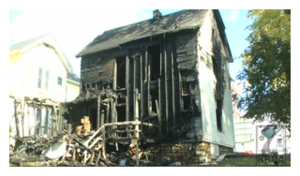 Police tased and arrested a desperate father as he tried to kick in the front door of his house to save his 3-year-old child from burning alive. As toddler was taken to the morgue, his father was taken to jail for trying to save him.
On the morning of November 1st, Ryan and Cathy Miller woke up in the middle of the night, overwhelmed with smoke. Their house was ablaze. They were forced out through back door, but their son, Riley, was still inside.
Step-father Ryan Miller circled the house to attempt to enter in through the front door, while Cathy placed a 9-1-1 call. The call was recorded at 12:58 a.m., and first-responders promptly arrived at the scene at 1:03 a.m.
As Ryan attempted to break through the locked front door, he was restrained by the very police officers that were called to help. Ryan was tased three times, then arrested. Ryan was forced to watch as the fire consumed the home.
By the time the fire department finally arrived on the scene the fire had become too hot for them to enter. The family was shocked by the actions of the officers.