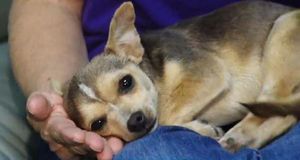 Larry McHale charged with animal cruelty for allegedly throwing a Chihuahua against a Starbucks window, breaking its leg.
A Houston man was charged with animal cruelty after he allegedly threw a 4-pound Chihuahua at a Starbucks window.
Witnesses said the man, Larry McHale, was causing a commotion around 9:30 p.m. Tuesday outside the Starbucks coffee shop, from which he had been banned the last three months.
One witness said McHale yelled and smashed a bottle on the ground.
"He harasses customers every time. He comes in and starts chaos," Starbucks manager Jasmine Hyder told KHOU-TV, Houston.
He then allegedly picked up a Chihuahua and threw it against the restaurant's window.