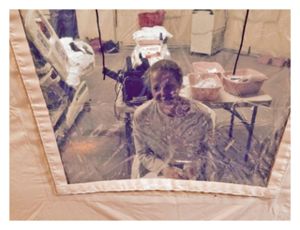 Newark - A humanitarian worker says she is being detained against her will and "treated like a criminal" after selflessly working to provide health care to the people of Africa. The quarantined nurse has not tested positive for any disease and has exhibited no symptoms of illness.
Kaci Hickox, 33, recently returned from the West African nation of Sierra Leone, part of an assignment from Doctors Without Borders to help the poverty and disease stricken natives deal with the recent ebola outbreak.
What she returned home to in the USA, she said that she "would not wish on anyone."
Ms. Hickox said that even though she tested negative for ebola and never felt ill, she was forcibly detained by armed police and state health workers and confined as part of a mandatory quarantine instituted by Governor Chris Christie.
The "prison-like" treatment has included locking her in an unheated tent in a parking lot, without a flushing toilet, while being deprived of legal counsel.
When Ms. Hickox first arrived at Newark International Airport from Sierra Leone, a federal agent smiled at her and told her, "No problem. They are probably going to ask you a few questions."