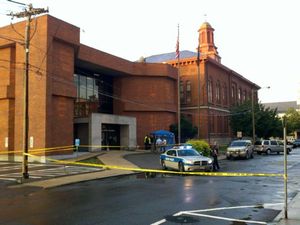 Investigators Say Man Set Himself On Fire
Keene - Police in Keene said a Massachusetts man found on fire in front of the Cheshire County Superior Courthouse on Wednesday night has died.
The call came in to the Keene Police Department at 5:30 p.m., according to Lt. Todd Lawrence.
Police said the man was thoroughly burned when they arrived at the scene.
The man was later identified as Thomas Ball, 58, of Holden, Mass. An autopsy showed that he set himself on fire and that he took his own life.
Witnesses said what they saw in front of the courthouse almost defied belief.
"I saw a man standing on fire. He walked around a little bit, walked on to the grass, collapsed on all fours and literally sat there and burned," said witness Dan Koski.
"(The flames were) over his head, and when he was on the ground, they were probably a good foot over his body," said witness Jerry Goodrich.