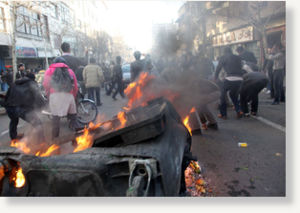 Tehran was convulsed by protests yesterday as thousands of demonstrators, inspired by the success of the uprising in Egypt, took to the streets of the Iranian capital for the first time in more than a year.
Chanting "death to the dictator", the demonstrators filled the streets after opposition groups called for marches in sympathy with the movement in Cairo. Marching towards the central Enghelab, or Revolution, Square, protesters were met with volleys of tear gas, shots from paintball guns and beatings from state security forces, Reuters reported.
The demonstrators, galvanised for the first time since their last major gathering in December 2009, seized upon President Mahmoud Ahmadinejad's praise for the Egyptian protests, which he said were inspired by Iran's 1979 Islamic Revolution, to provide a pretext for their own action. After they asked for permission to march in solidarity, the government barred such marches, a position seized upon by the United States as evidence of hypocrisy. Also, phones were cut and the home of a key opposition leader, Mir Hossein Mousavi, was blockaded.