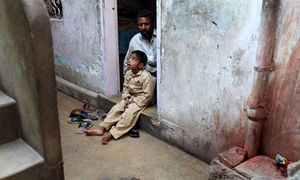 Zardari launches emergency drive to safeguard under-fives after virus infection rates in Pakistan rise by 65%
Beset by war against violent extremists, Pakistan is now thrusting itself on to the frontline of a silent battle: the world's final assault on polio.
Asif Ali Zardari, the country's president, is launching an emergency drive to immunise 32 million children under the age of five against polio, aiming to reverse an alarming surge in cases last year.
Under the plan, to be launched , tomorrow armed police and paramilitary soldiers will protect teams of vaccinators in the most dangerous areas, a presidential spokesman said.
Bill Gates, who met Zardari in Washington last week, is funding the effort with a $65m donation through the Gates Foundation.
Pakistan's polio crisis represents one of the last big hurdles in a 23-year campaign run by the World Health Organisation. Doctors say they are on the cusp of eradicating the disease, with infection rates falling elsewhere. In Pakistan, however, the infection rate has risen by 65%, undoing progress made over the last decade.