Society's Child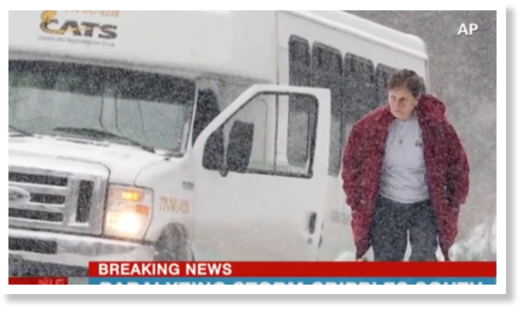 There was no morning commute Wednesday morning in Atlanta because Tuesday afternoon's commute was still stuck on the highways.
---
Sharon Schwartz
The Blaze
Thu, 23 Jan 2014 08:08 UTC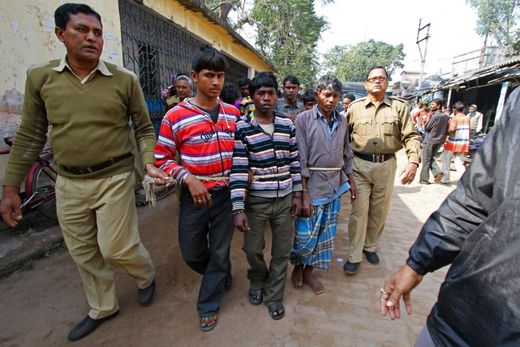 A 20-year-old Indian woman is in critical condition after a village council ordered her to be gang-raped as punishment for allegedly having had an affair, news agencies reported Thursday quoting local police.
The horrific punishment was carried out on Monday evening in a village in West Bengal state, after which Indian police arrested the 12 men believed to have attacked her along with the village elder who handed down the judgment.
Bloomberg News
reported
that she was held captive for more than 12 hours during which she was raped repeatedly by residents of her community.
Police said on Thursday that the gang-rape which was carried out in a shed was preceded by the woman and the man she was accused of having a relationship with being tied to trees as the ruling was delivered.
The French News Agency
Agence France-Presse
reported
that the woman who is a member of the Santhal tribal group and is not married, was accused of having a relationship with a Muslim man from another village.
At first, the council of elders imposed a fine of 25,000 rupees ($400) on her family, but district police superintendent C. Sudhakar said they were unable to pay.
---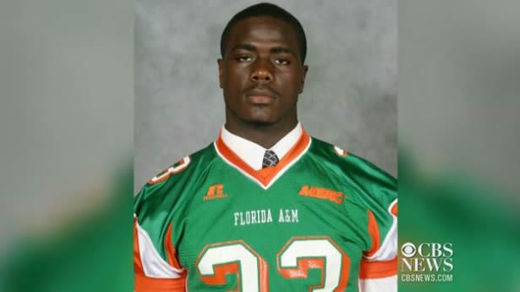 Prosecutors will
submit involuntary manslaughter charges
against a North Carolina police officer who shot a former college football player after he crashed his car.
A Mecklenburg County grand jury declined to indict Charlotte-Mecklenburg Police Officer Randall Kerrick on Tuesday on voluntary manslaughter charges in the
Sept. 14 shooting death
of 24-year-old Jonathan Ferrell.
Kerrick fired his service weapon 12 times and struck Ferrell 10 times
, investigators said, killing him.
WBTV-TV reported that grand jurors asked prosecutors for a lesser charge than voluntary manslaughter, and the state attorney general's office said it would submit the new charge to a full grand jury.
"In the interest of justice, we will resubmit this case to the grand jury scheduled to meet Monday, Jan. 27, to seek an indictment for voluntary manslaughter, the most appropriate charge given the facts in the case," said Attorney General Roy Cooper.
Ferrell's family said in a statement they were pleased the case would be resubmitted, but with reservations.
"While we are pleased that the Attorney General is going to resubmit the charges against Randall Kerrick to a new Grand Jury on Monday, we are skeptical given their inability to secure an indictment yesterday," the statement said. "Jonathan Ferrell was a quality human being who worked hard and cared for those around him. He deserved better."
---
Martin Robinson, Mark Duell and Kieran Corcoran
Daily Mail
Tue, 28 Jan 2014 21:46 UTC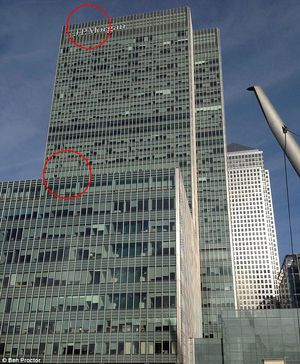 Two top ranking American bankers working in senior positions in London have committed suicide in the space of two days.
Gabriel Magee, a 39-year-old JP Morgan bank executive, died early this morning after he jumped 500ft from the top of the bank's European headquarters. His body was discovered on the ninth floor roof, which surrounds the 33-story Canary Wharf skyscraper.
Just two days earlier, on Sunday, fellow American banker, William 'Bill' Broeksmit, 58, was found hanging in his South Kensington home.
Broeksmit - who retired last February - was a former senior manager at Deutsche Bank and had lived in London many years. He started working for the bank in 1996 but left for a period of 7 years before returning in 2008.
Magee was a vice president in the corporate and investment bank technology department having joined JP Morgan in 2004 and moved with the bank from the U.S. to Britain in 2007.
Magee was named in an email sent to all JP Morgan staff Tuesday afternoon.
A company spokesman said: 'We are deeply saddened to have lost a member of the J.P. Morgan family at 25 Bank Street today. Our thoughts and sympathy are with his family and his friends'.
---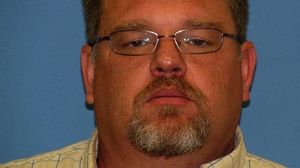 Arkansas state police arrested a police officer from the Little Rock suburbs Wednesday on a charge of rape, with the court appointing a special prosecutor and special judge to examine the case.
Lt. Monte Hodge, an 18-year veteran of the Benton Police Department, turned himself in to state police after an arrest warrant was issued, prosecutor Chuck Graham told Raw Story. Hodge has been released on $25,000 bond, he said.
"We're just now starting to get involved with it," he said, noting that it is standard procedure to appoint a judge and prosecutor from outside of an officer's jurisdiction when accused of a crime.
Hodge's attorney, Bobby Digby, told Raw Story that the officer stands accused of sexually assaulting an underage male family member. "Right now it's just a set of allegations," Digby said. "They haven't presented any physical evidence."
---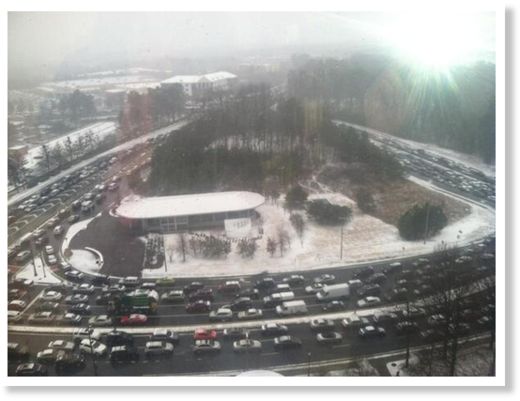 Students camped out with teachers in school gyms or on buses and commuters abandoned cars along the highway to seek shelter in churches, fire stations - even grocery stores - after a rare snowstorm left thousands of unaccustomed Southerners frozen in their tracks.
Tuesday's storm deposited mere inches of snow, barely enough to qualify as a storm up North. And yet it was more than enough to paralyze Deep South cities such as Atlanta and Birmingham, and strand thousands of workers who tried to rush home early only to never make it home at all.
---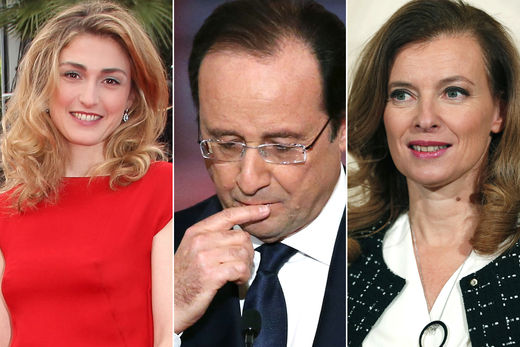 French President Francois Hollande and his first lady, Valerie Trierweiler, are together studying a "clarification" of their relationship, Trierweiler's lawyer told the newspaper
Le Figaro
.
Trierweiler remains holed up in a presidential residence in Versailles outside Paris after Saturday leaving hospital where she was treated for a bout of "tiredness" brought on by press revelations of Hollande's affair with a French actress, Julie Gayet, 41.
Speculation is rife in Paris and elsewhere that Hollande, 59, might be poised to dump Trierweiler, 48, his longterm partner who was with him when he became president in 2012.
The president promised in a mid-January news conference that he would publicly define what relationship, if any, he and Trierweiler had before going on a February 11 state visit to Washington.
Trierweiler's lawyer, Frederique Giffard, said "the president of the republic and my client are thinking it over," according to a report on Le Figaro's news website.
Trierweiler, a former political reporter who maintains a contract with the magazine
Paris Match
, wants to come out of the scandal "in the most dignified way possible," she added.
---
Jesse Walker
IO9
Tue, 28 Jan 2014 10:09 UTC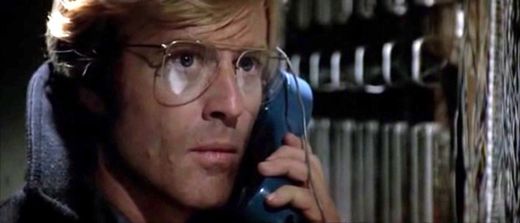 Techno-paranoia has become the norm our post-Snowden world, and hit shows like
Person of Interest
play on our fears of being watched. But the high-tech conspiracy tale has its roots in the 1970s, which saw a great wave of movies about assassins, surveillance, secret governments, and corporate cabals. The result was a decade's worth of paranoid thrillers, many of them extremely entertaining. Here are the ten you must watch.
Between the Watergate scandal and a series of
ugly revelations
about the CIA, the FBI, and other federal agencies, the public was more receptive to stories where the country's leaders were the villains. And with the rise of the so-called New Hollywood, a younger, more countercultural group of filmmakers was ready to deliver them.
These aren't the
best
'70s conspiracy thrillers - a couple of them aren't all that good, though they're worth watching for other reasons. They're just the essential ones: necessary stops on any extended tour of the genre. In chronological order:
---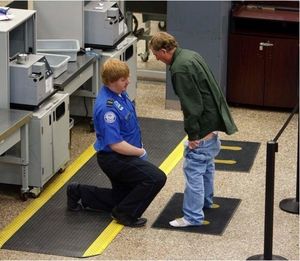 Travelers are reporting threatening messages coming from the loudspeakers of the Travel Security Administration. The TSA has been broadcasting warnings that people will be arrested for making jokes in the presence of the infamous federal checkpoint agents.
Policestateusa.com
has obtained exclusive audio of the threats.
Matt Miller said on the morning of September 20th, during his return trip from Colorado to Florida, he spent a few hours in Houston waiting for a connecting flight. Sitting at the George Bush Intercontinental Airport, he repeatedly heard a TSA audio message on the intercom that disturbed him.
...You are also reminded that any inappropriate remarks or jokes concerning security may result in your arrest.
Miller documented the message with an audio recording via his cell phone and sent it to us.
---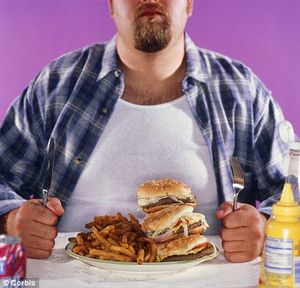 The latest
projections
from the National Cancer Registry (NCRI) show that, with the exception of leukaemia in males, all cancer types are projected to increase.
The incidence of lung cancer is predicted to rise by 136% in females and 52% in males. Cancers of the colon and the rectum are projected to increase by 120% to 130%.
The most rapidly rising cancers in both sexes are expected to be those of the skin - melanoma and non-melanoma.
The report also predicts that cancers of the upper gastrointestinal tract - such as the oesophagus and the pancreas - will rise by over 100%. The report found future trends for breast and prostate cancer were difficult to predict.
Director of the NCRI, Dr Harry Comber, said changes in population were the main reason for the predicted increase.
"We are going through two transitions. Life expectancy is increasing so people are living longer. Also there is a big increase in the birth rate in the 1950s and 1960s and that now is percolating through to a higher number of people over 65 and 70 and that's the age group who largely develop cancer. That would be the main reason for the increases," he said.
---