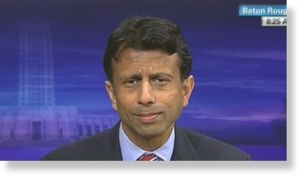 Louisiana Gov. Bobby Jindal (R) on Sunday said that using a new lethal drug that took as long as 26 minutes to kill an inmate is a "fair way" to conduct an execution.
Earlier this month, Ohio elected to use two drugs never combined before to execute Dennis McGuire after manufacturers began refusing to sell traditional execution drugs to U.S. states. According to
reports
, "McGuire gasped for air and took almost 26 minutes to die."
Louisiana
announced last week
that it would also use the drug cocktail to convicted killer Christopher Sepulvado.