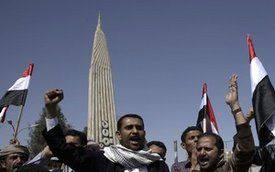 Aden, Yemen - Around 3,000 people took to the streets across southern Yemen in a "Friday of Rage", demanding secession from the north, but heavily deployed security forces quickly stamped out protests, residents said.
The protests come in the lull after a wave of anti-government rallies spread across Yemen over the past two weeks, inspired by the revolts that ousted Tunisia's former president and the uprising in Egypt that threatens President Hosni Mubarak's 30-year rule.
"Revolution, revolution for the South," protesters chanted in the flashpoint cities of Aden, Dalea and Zinjibar.
Yemen experts say the real danger to the three-decade rule of President Ali Abdullah Saleh, a key U.S. ally against al Qaeda, is if protesters from his political opposition join with rebel groups such as the separatists in the south and the Shi'ite insurgents he has made a shaky truce with in the north.