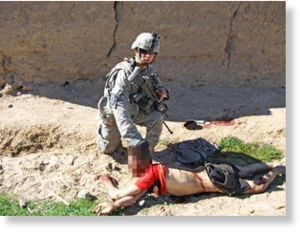 Joint Base Lewis-McChord, Washington - After tearfully asking for mercy, a 21-year-old Idaho soldier among five charged in the thrill killings of Afghan civilians last year was sentenced Friday to seven years in prison, an Army spokesman said.
Pvt. 1st Class Andrew Holmes sentence comes one day after he changed his plea to guilty in a deal with Army prosecutors. The soldier from Boise, Idaho confessed in court that he fired a heavy machine gun at a startled, unarmed man from 15 feet away after a co-defendant tossed a grenade at him.
Army spokesman Joe Kubistek said that Holmes will receive a dishonorable discharge after serving his sentence. He'll also forfeit his Army pay.