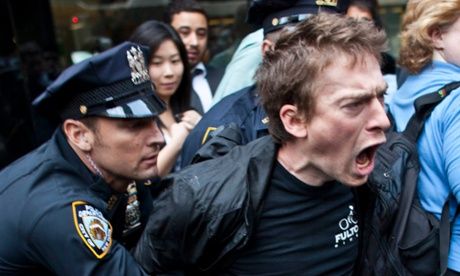 The verdict in the biggest Occupy related criminal case in New York City, that of Cecily McMillan,
came down Monday afternoon
. As disturbing as it is that she was found guilty of felony assault against Officer Grantley Bovell, the circumstances of her trial reflect an even more disturbing reality - that of normalized police violence, disproportionately punitive sentences (McMillan faces seven years in prison), and a criminal penal system based on anything but justice. While this is nothing new for the over-policed communities of New York City, what happened to McMillan reveals just how powerful and unrestrained a massive police force can be in fighting back against the very people with whom it is charged to protect.
McMillan was one of roughly 70 protesters arrested on March 17, 2012. She and hundreds of other activists, along with journalists like me, had gathered in Zuccotti Park to mark the six-month anniversary of the start of Occupy Wall Street. It was four months after the New York Police Department had evicted the Occupy encampment from the park in a mass of violent arrests.
When the police moved in to the park that night, in formation and with batons, to arrest a massive number of nonviolent protesters, the chaos was terrifying. Bovell claimed that McMillan elbowed him in the face as he attempted to arrest her, and McMillan and her defense team claim that Bovell grabbed her right breast from behind, causing her to instinctively react.