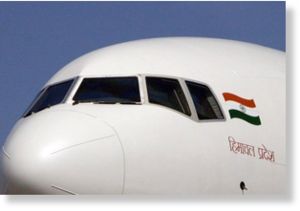 Hundreds of air travellers were left stranded after an incoming Air India flight was grounded for nine hours at London's Gatwick Airport by a combination of fog and aviation rules.
Police were called onto the Boeing 777 jet as tempers frayed among the 200 passengers after the airline prevented them from disembarking.
The flight from Ahmedabad via Mumbai was due to arrive at Heathrow, London's other major airport, at 08:00 local time (07:00 GMT) but was diverted to Gatwick due to fog.
The plane was unable to complete the 44-mile (70-kilometre) cross-city journey as aviation law limits the length of time for which flight crew are allowed to work in one shift.