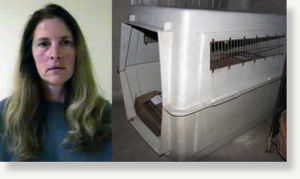 The boy slept there for two weeks, police said.
An Old Saybrook woman is accused of making her son sleep in a locked dog crate because he was acting out and soiling his bed.
Police started investigating Kathlyn Anthony, 54, after the boy's sister said at school that she was tired because she kept getting up at night to let her brother out of his "sleep locker."
School officials called police, who learned that the "sleep locker" was a 30-inch-high 36-inch-by-22-inch crate that the family had used to hold cats, police told the Day of New London.
Anthony is accused of keeping her son in the crate for about two weeks, the Day reports.