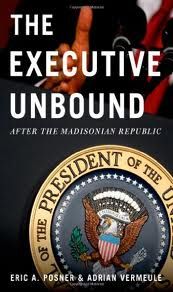 About this blog: President Bush asserted his executive power in managing the war on terror. President Obama showed the muscle of the White House in managing the financial crisis. Since the Republic's early days a subtle balancing act has negotiated power between the president, Congress and the courts. But by the 20th century, power had tipped in favor of the president and has continued to grow. In their book
The Executive Unbound: After the Madisonian Republic,
recently released by Oxford University Press, Eric A. Posner and Adrian Vermeule explore the inevitability of the "imperial presidency" and argue that it must be accepted and is nothing to fear. Posner is a law professor at the University of Chicago Law School, while Vermeule is a law professor at Harvard Law School. Here, Posner takes us through the evolution and impact of an assertive executive branch.