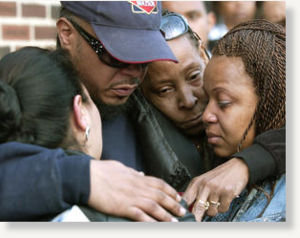 Shots rang out in a suburban Philadelphia social hall where a teenage party was being held, killing two people and sending eight others to hospitals, authorities said Saturday.
Police in Chester, where a state of emergency was declared last summer because of crime concerns, said a suspect was taken into custody after officers were called to the Minaret Temple No. 174 around 11:30 p.m. Friday and found "numerous victims."
Police said nine people were transported to Crozer Chester Medical Center, where a spokesman said one died soon afterward and another died Saturday afternoon. Four other victims remained in stable condition, and three had been discharged, the spokesman said. A 10th person was treated at Taylor Hospital and was released.
The social hall had been rented for a party, and many teenagers were present when the shots were fired, police said. Detectives were investigating the cause of the shooting and declined to release further information. A man answering the phone at the hall said he had come in to see the condition of the building but declined to comment further.
The Delaware County Daily Times
newspaper said neighbors and community leaders planned a candlelight vigil at the scene Saturday night.