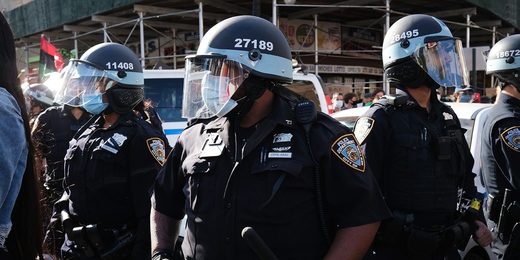 New York Police Department officers policing the protests in New York City are
increasingly covering their badge numbers with black bands
, making it difficult for people to identify them and hold them accountable for their actions. On Wednesday, the National Lawyers Guild
sent a letter
to the department and to the city's corporation counsel, warning that if the NYPD doesn't put an end to the practice, it could expect a lawsuit.
"The trend of individual officers to sidestep what minimal accountability exists, in order to more effectively and with greater impunity brutalize protesters for pretextual reasons, is unacceptable."
The practice of police obscuring their badge numbers — a form of identification that many jurisdictions require officers to make available to the public when interacting — has taken on a heightened significance amid the nationwide protests over the killing of George Floyd by Minneapolis police. The protests have been met with a show of force from officers, sometimes veering into brutality, leaving the risk that those without visible identification are acting with the very impunity to commit violence that spurred the protests in the first place.
The NYPD has strict regulations around displaying badge numbers — and a history of suppressing protests with violence and
without accountability
.