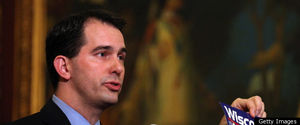 Walker policy would allow weapons on Assembly floor
The public will be able to carry guns into most parts of the state Capitol, under a policy being developed by Gov. Scott Walker.
Lawmakers are developing their own policies that would allow individual lawmakers to decide whether to allow guns into their offices.
Under rules planned for one chamber, guns would be allowed on the Assembly floor and in the Assembly viewing galleries, said sources who have been briefed on the plans. That would mean the public could bring guns into the viewing galleries but would still have to adhere to other existing rules, including one that bars the use of still cameras and video cameras.
"People who carry concealed can come in my office, I don't care," said Rep. Robin Vos (R-Rochester).