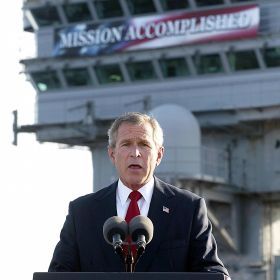 As the last American soldiers left Iraq in December, so, too, did many of the journalists who had covered the war, leaving little in the way of media coverage of post-war Iraq. While there were some notable exceptions --
including
two fine
articles
by MIT's John Tirman that asked how many Iraqis had been killed as a result of the US invasion -- overall the American press published few articles on the effects of the occupation, especially the consequences for Iraqis.
As a college professor, I have a special interest in what happened to Iraqi universities under US occupation. The story is not pretty.
Until the 1990s, Iraq had perhaps the best university system in the Middle East. Saddam Hussein's regime used oil revenues to underwrite free tuition for Iraqi university students -- churning out doctors, scientists, and engineers who joined the country's burgeoning middle class and anchored development. Although political dissent was strictly off-limits, Iraqi universities were professional, secular institutions that were open to the West, and spaces where male and female, Sunni and Shia mingled. Also the schools pushed hard to educate
women
who constituted 30 percent of Iraqi university faculties by 1991. (This is, incidentally, better than Princeton was doing as late as 2009.) With a reputation for excellence, Iraqi universities attracted many students from surrounding countries -- the same countries that are now sheltering the thousands of Iraqi professors who have fled US-occupied Iraq.
Iraqi universities began their decline in the 12 years after the 1991 Gulf War. As the international sanctions regime cut off journal subscriptions and equipment purchases, academic salaries fell precipitously, and 10,000 Iraqi professors
left
the country. Those faculty who remained were increasingly closed off from new developments in their fields.