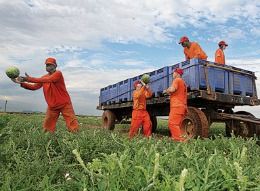 ThinkProgress has been reporting on the
catastrophic economic consequences
of Alabama's harshest-in-the-nation immigration law. Undocumented workers are the
backbone of Alabama's agriculture industry
, and their exodus has already
created a labor shortage
in the state. Farmers say
crops are rotting in the field
and they are in danger of losing their farms by next season.
GOP politicians have
crowed
that driving immigrants out of the state will reduce unemployment by letting native citizens fill those jobs. But they've quickly discovered that Americans are simply unwilling to do the back-breaking labor of harvesting crops.