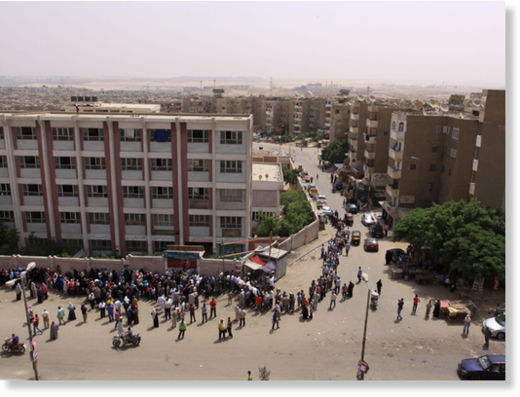 Cairo, Egypt - More than 15 months after autocratic leader Hosni Mubarak's ouster, Egyptians streamed to polling stations Wednesday to freely choose a president for the first time in generations. Waiting hours in line, some debated to the last minute over their vote in a historic election pitting old regime figures against ascending Islamists.
A sense of amazement at having a choice pervaded the crowds in line, along with fervent expectation over where a new leader will take a country that has been in turmoil ever since its ruler for nearly 30 years was toppled by mass protests.
Some backed Mubarak-era veterans, believing they can bring stability after months of rising crime, a crumbling economy and bloody riots. Others were horrified by the thought, believing the "feloul" - or "remnants" of the regime - will keep Egypt locked in dictatorship and thwart democracy.
Islamists, particularly the Muslim Brotherhood, saw their chance to lead a country where they were repressed for decades and to implement their version of Islamic law. Their critics recoiled, fearing theocracy.
"You can't tell me, 'Vote for this or else you're a sinner!"' Wael Ramadan argued with another man in line at a polling station in the impoverished Cairo neighbourhood of Basateen. "We never said that," protested the man. "Yes, you did," Ramadan shot back.
"The revolution changed a lot. Good things and bad things," Ramadan, a 40-year-old employee at a mobile phone company, said afterward. "The good thing is all this freedom. We are here and putting up with the trouble of waiting in line for electing a president. My vote matters. It is now a right ... Now we want a president that has a vision."
A field of 13 candidates is running in the voting Wednesday and Thursday. The two-day first run is not expected to produce an outright winner, so a runoff between the two top vote-getters will be held June 16-17. The winner will be announced June 21. Around 50 million people are eligible to vote.