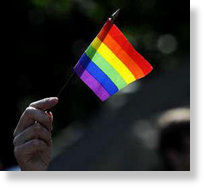 While most people may see rainbows as a good sign because the rain is ending, some Catholic schools in Ontario have banned visual references to the iconic colourful arch.
Leanne Iskander, 16, tells
Xtra
that the Dufferin-Peel Catholic School Board prevented her group from displaying any rainbows at their information booth during an anti-homophobia event last week.
Iskander is the founder of the unofficial gay-straight alliance at St. Joseph Catholic School in Mississauga.
"We brought signs and posters with rainbows, and we were told we can't put them up," says Iskander to
Xtra
. "They said rainbows are associated with Pride. There's so many other things that a rainbow could be. It's ridiculous."
But this did not stop the group from showing a rainbow. They baked cupcakes with different colour icing and displayed them on the table so it resembled a rainbow. Better yet, when people bit into the cupcake, there was a rainbow of colours inside.