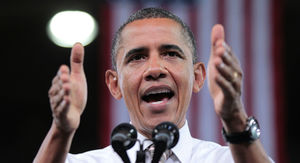 President Barack Obama opened the sixth day of his jobs push Wednesday with a campaign-style rally at North Carolina State University, saying the country is in the midst of a "national emergency" that requires Congress to act swiftly on his $447 billion plan.
Against the backdrop of more negative poll numbers and two special-election losses for Democrats, Obama called on thousands of college students assembled in the steamy Reynolds Coliseum to mobilize behind the plan, a mix of tax cuts and government spending on infrastructure, jobs programs and construction projects.
The 26-minute speech before a crowd of more than 9,000 echoed his remarks in previous days, with a slightly sharper critique of congressional Republicans for suggesting that they don't want to give Obama a political "win" and pass his proposal.