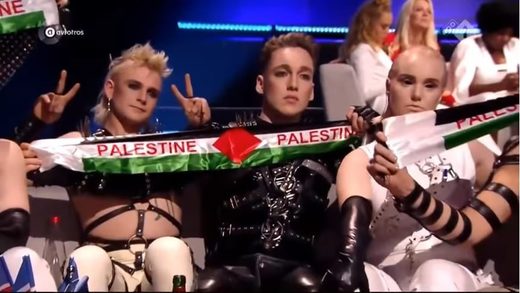 Iceland protested against Israeli occupation of Palestine
The European Broadcasting Union has hinted at punishment for the Icelandic delegation following Hatari's protest at the Eurovision Song Contest final.
Tensions have been high this year at Eurovision due to the host country Israel's occupation of Palestinian territories, with calls for artists and viewers to boycott the contest.
And during the voting, Iceland's act Hatari showed their support for Palestine by
holding up
flags and banners reading 'Palestine' when the camera cut to them in the green room.
The EBU, which runs Eurovision, said of the protest:
'In the live broadcast of the Eurovision Song Contest Grand Final, Hatari, the Icelandic act, briefly displayed small Palestinian banners whilst sat in the Green Room. The Eurovision Song Contest is a non-political event and this directly contradicts the contest's rules.