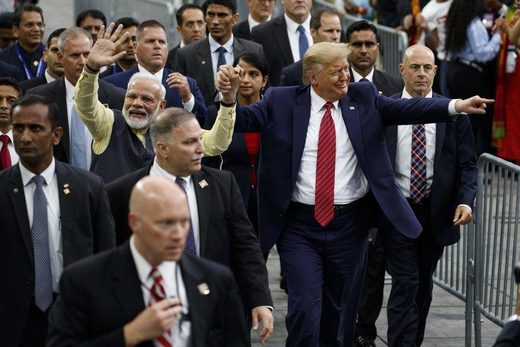 Over 50,000 people showed up for the 'Howdy, Modi' event in Houston, Texas, giving India's PM a rock star-level welcome. President Donald Trump joined him on stage as the two leaders lauded US-India ties.
The massive rally, held at Houston's NRG Football Stadium, launched some 90-minute music and dance show featuring around 400 artists entertained the audience who gathered hours in advance.
People were chanting Indian Prime Minister Narendra Modi's name long before he appeared in a welcome for a foreign leader rarely seen on the American soil
.
The spectacle was both campaign event for Trump and the show of the
"strategic partnership between the world's oldest and largest democracies,"
as the White House put it. Although it comes amid ongoing trade disputes between the two nations, t
he tensions were not reflected in the speeches that lauded strong ties and friendship, receiving ovations from the audience
.