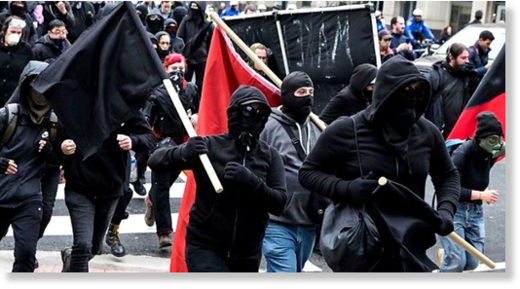 Comment: Do keep in mind that the author is being deliberately sarcastic and facetious in some places in order to drive his excellent points home.


So it's been an exciting few weeks for Antifa and the rest of the neoliberal Resistance. OK, they haven't yet managed to overthrow the Putin-Nazi occupation government (hereinafter "POG"), but they've definitely got "the Fash" on the run. "Fascism" hysteria is spreading like wildfire. Liberal Twitter mobs are out for blood. At this point, it's only a matter of time until the sleeping giant of normality awakens and purges America of the fascist filth that have
Putin-Nazified
this once great nation.
Antifa has been at the vanguard of the fight, smashing the Fash on both East and West Coasts. In Portland, where a gang of neo-fascist anti-masturbationists known as the "Proud Boys" had assembled for a self-promotional street fight they were billing as the "Battle of Portland 2," Antifa militants positively identified and
preventatively beat the living snot out of a journalist named Andy Ngo
. To prevent him from snitching to the fascist cops (who are allegedly working hand in hand with POG), they self-defensively robbed him, sprayed him with silly string, and pelted him with vegan milkshakes.
Now, before you get all up in arms about Antifa assaulting and robbing journalists, you need to know a couple of things. First, according to Antifa spokespersons, and those bloodthirsty liberal Twitter mobs, Andy Ngo is a "fascist adjacent," and possibly even a card carrying fascist. Antifa representative Alexander Reid Ross
claims that Ngo is personally responsible for putting people's names on a Nazi "kill-list"
(or at least that Ngo's writing has been published by
Quillette
, which published an article by someone else that some fascists read and copied people's names from), so, basically, he deserves to die.