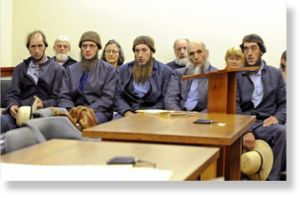 The leader of a breakaway Amish group allowed the beatings of those who disobeyed him, made some members sleep in a chicken coop and had sexual relations with married women to "cleanse them," federal authorities said Wednesday as they charged him and six others with hate crimes in hair-cutting attacks against other Amish.
Authorities raided the group's compound in eastern Ohio earlier in the day and arrested seven men, including group leader Sam Mullet and three of his sons.
Several members of the group carried out the attacks in September, October and November by forcibly cutting the beards and hair of Amish men and women and then taking photos of them, authorities said.
Cutting the hair is a highly offensive act to the Amish, who believe the Bible instructs women to let their hair grow long and men to grow beards and stop shaving once they marry. One victim told the FBI he would rather have been "beaten black and blue than to suffer the disfigurement and humiliation of having his hair removed," according to court papers.
The attacks struck at the core of the Amish identity and tested their principles. They are pacifists and strongly believe that they must be forgiving in order for God to forgive them, which often means handing out their own punishment and not reporting crimes to law enforcement.