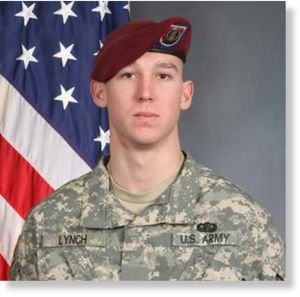 A former Army soldier who was convicted of killing his wife and baby daughter shortly after returning from combat in Afghanistan was sentenced on Friday to 80 years in prison for the crimes.
Kip Lynch, 22, was found guilty last summer of first degree murder in the April 2010 shooting death of his 19-year-old wife Racquell and second-degree murder of their 8-month old baby, Kyirsta.
Lynch shot his wife numerous times in the back, head and neck while she was holding their infant daughter, according to police reports.
The bullets passed through her body, killing both mother and child, according to police reports. Lynch then turned the gun on himself in an apparent suicide attempt, but survived.
The bodies of his wife and baby remained in the family's Anchorage apartment for a weekend before they were discovered.
Lynch was found in critical condition but recovered.