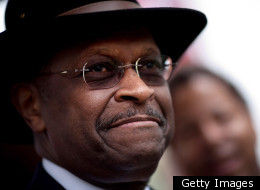 No household pet, it seems, is safe from Herman Cain.
Having already used a
flopping, out-of-water goldfish
to portray "the economy on stimulus," Cain sent an email to supporters on Monday to let them know that "A brand new, take-no-prisoners video is available for your viewing and forwarding pleasure. And this one picks right up where we left off on our theme of "Sick of Stimulus" - and may even go a bit farther."
It turns out that "a bit farther" means using a rabbit as a skeet-shooting target. In the 30-second video, which advertises Cain's website sickofstimulus.com, the small girl from the goldfish ad places a rabbit in a catapult, where it's launched and shot out of the sky by a man with a rifle. "This is small business under the current tax code. Any questions?" asks the girl, as the man cocks the rifle again in the background.