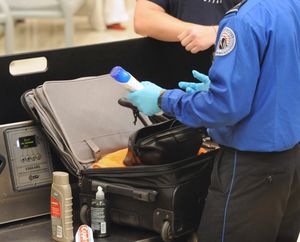 Four were brought to hospital complaining of eye and throat problems
US, Boston - Authorities say rodent repellant in a passenger's bag caused a noxious odor that sent four Transportation Security Administration workers at Boston's Logan International Airport to the hospital.
Authorities say 15 TSA workers were evacuated from a bag room at Terminal A shortly after the odor was noticed at about 8:20 a.m. on Monday. Four were brought to a hospital as a precaution complaining of eye and throat problems or headaches.
The all clear was given shortly after 10 a.m. after the chemical in the bag was determined to be camphor.
The bag's owners were questioned but not charged. Their names were not made public.
Police say the couple was en route to Beijing.
No passengers were affected.
Terminal A handles flights for Alaska Airlines, Delta Airlines and United Airlines.
Source: The Associated Press