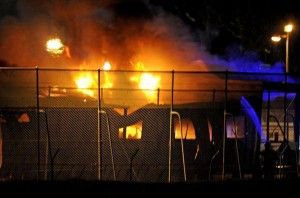 Sydney - Asylum seekers torched a number of buildings at a Sydney detention centre in a night of wild riots, with police still trying to talk down a handful of protesters from the rooftops on Thursday.
The riots kicked off late Wednesday at the Villawood Detention Centre with an estimated 100 detainees involved at the height of the drama.
At one stage firefighters were pelted with roof tiles and pieces of furniture, ABC radio reported.