Comment:
This is the ninth in a series of 12 articles written in 2006 commemorating (at the time) the 43rd anniversary of the assassination of JFK. This year, 2013, is the 50th anniversary of what can, in hindsight and in Truth, be called the Day America Died.
Anyone who has taken the time to study the facts about that fateful day in Dallas, TX, will already know that JFK was deliberately murdered by a cabal of psychopathic warmongers who were opposed to his plans for a more peaceful world. That same cabal is still in power today, and it has extended its reach across the globe.
We will be featuring one article per day between now and the anniversary.
You can find the rest of the JFK series on the right hand bar of
Sott.net
. You can also purchase a Kindle of
the whole series on Amazon
.
If you do nothing else, just take the time to watch the Sott.net/QFG produced version of '
Evidence of Revision
', a three disc set that presents archive footage that will leave you in no doubt who killed JFK and why.
John F. Kennedy and the Titans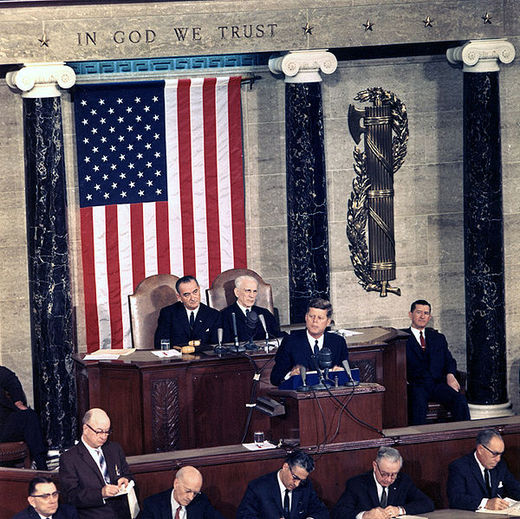 On November 19, 1963, 43 years ago today, at a ceremony in the White House Flower Garden, John F. Kennedy welcomed officers of state education associations of the National Education Association. he remarked: "I realize once again in a very personal way what a tremendous flood of children are coming into our schools..."
He was always concerned about children, his own as well as the children of all Americans and the world.
Later that same day, President Kennedy sent a message to the rededication ceremonies of the national cemetery at Gettysburg, Pennsylvania writing:
"The goals of liberty and freedom, the obligations of keeping ours a government of and for the people are never-ending."
Still later, President Kennedy signed into law a bill (HR1989) allowing the legislature of the Virgin Islands to issue general obligation bonds. (PL88-180). He then pocket vetoed a bill (S1201) for the relief of James T. Maddux.
Between 4:30 and 5:00 p.m., Kennedy met with Dean Rusk and Phillips Talbott.
It was John F. Kennedy's 1,033rd day in office.