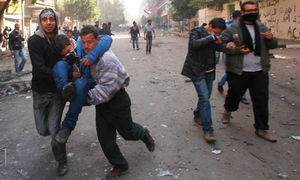 Ten protesters and one security officer killed in Cairo and Suez in aftermath of deadly football violence
At least 11 people have been killed in clashes with Egyptian security forces amid ongoing fallout from the 74 deaths at a football match in Port Said earlier this week.
Five people were killed when hundreds of demonstrators in Cairo clashed with police near the interior ministry on Saturday morning. The protesters are demanding an end to military rule and retribution for those killed in the riots after Wednesday's match.
Abdolheliem Mahmoud, a doctor at a field hospital in Tahrir Square, said Saturday's victims died birdshot to the head or chest during overnight clashes. Another protester was in critical condition.
Demonstrators claimed that
police fired rounds of teargas
into the crowds and field hospitals were set up in streets near the interior ministry to help hundreds of cases of suffocation.