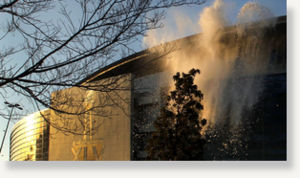 Hard ice and heavy snow slid off Cowboys Stadium's domed roof Friday, injuring at least six private contractors hired to prepare the venue for the Super Bowl, authorities said.
One man was struck in the head and another was hit in the shoulder, said Arlington Fire Department spokesman Pete Arevalo. They were in stable condition Friday afternoon. The other four injuries were considered minor.
Emergency personnel responded about 1 p.m. to reports of snow and ice sliding off the southern end of the sprawling stadium where the group was working, Arevalo said.
Food service worker Doug McCracken said he and a friend pulled up to the area just in time to see what looked like snow flurries blowing off the building. Wonder turned to shock when he realized someone had been hit.
"What we saw was hard ice. It shattered, it was everywhere," McCracken said. "We thought maybe it was snow at first but it was ice. Hard ice."
The United States National Weather Service had issued a winter storm warning Friday for Arlington, home of the US$1.3 billion stadium where the Pittsburgh Steelers and the Green Bay Packers will play this weekend for the NFL title.