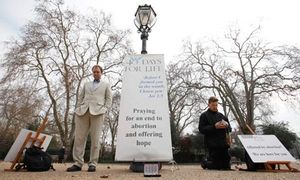 Anti-abortion campaigners in Britain are making controversial claims that abortions are linked to an increased risk of breast cancer, in a presentation to children in school which has been obtained by the
Guardian
.
Pupils were told that abortion can cause infertility and result in the death of the mother, and were shown a video by a Christian campaigner from the US who calls for abortion to be made "unthinkable".
Conceiving a child after rape is the "ultimate unplanned pregnancy", but to have an abortion at this stage can be a "second trauma," children at a secondary school in Cambridgeshire were told.
"For some people who've been raped and had the baby, even if they don't keep it, something positive comes out of that whole rape experience," pupils aged 14 and 15 were told.
The presentation, by the
Society for the Protection of Unborn Children
, also refers to a teenage girl who died after an abortion and a young woman who committed suicide after aborting twins.
Britain's biggest abortion provider, the British Pregnancy Advisory Service, warned recently that it is facing "a new era" in anti-abortion protest after
women were filmed arriving at and leaving its London clinic.