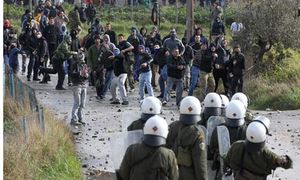 Violence on the streets as backlash grows over Greece's austerity package and €110bn bailout
A growing chorus of voices is urging the Greek government to restructure its debt as fears grow that a €110bn bailout has failed to rescue the country from the financial abyss and is forcing ordinary people into an era of futile austerity.
"It's better to have a restructuring now ... since the situation is going nowhere," said Vasso Papandreou, whose views might be easier to discount were she not head of the Greek parliament's economic affairs committee.
Other members of prime minister George Papandreou's party have said that Greece is locked in a "vicious cycle", unable to dig itself out of crisis with policies that can only deepen recession.
International fears of a Greek default rose last week after the German finance minister, Wolfgang Schäuble, refused to rule it out and markets, sensing upheaval, sent Greek borrowing costs soaring.