Mitt Romney will become one of the richest ever occupants of the White House if he wins the presidential election, after his campaign confirmed he was worth up to $250 million.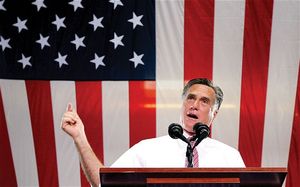 The Republican candidate disclosed his net worth, around £163 million, in a financial declaration to the Federal Election Commission which provided new details of his personal fortune.
A campaign spokesman said the former Massachusetts Governor and his wife Ann had assets of between $190 million and $250 million. Experts claimed analysis of his holdings suggested his wealth was closer to the upper figure.
The family has another $100 million (£65 million) in a separate trust for Mr Romney's five sons.
The candidate's exact net worth had been unclear until now, although it had been estimated in the $200 million to $250 million range after he disclosed that in 2010 he had paid taxes of $3 million (£1.9 million) on income of $21.7 million (£14 million). Because most of his wealth derived from capital gains, he was able to pay tax at a far lower rate than most Americans.
The records also show that Mr Romney sold off much of his overseas investments in the last year, including controversial holdings in the Chinese-owned companies Hang Lung and Komatsu, which have been criticised for doing business with Iran, and British Sky Broadcasting.