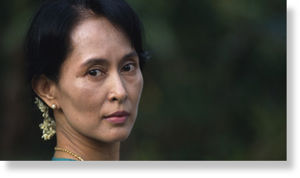 Democracy icon Aung San Suu Kyi said today she is planning a political tour of Burma, a move likely to measure her popularity and test the limits of her freedom after being released from house arrest six months ago.
Suu Kyi, who spent seven years in detention until last November, was asked at a video conference in Hong Kong to confirm reports she will launch political rallies across the nation, her first tour since being freed.
"I hope to travel ... in the month of June," the Nobel Peace Prize winner told more than 1000 academics, students and members of the public gathered at the University of Hong Kong.
"Where I will be going I can't tell you yet. We are trying to work out the itinerary," said Suu Kyi, who was freed less than a week after a widely criticised election that cemented the military regime's decades-long grip on power.
Suu Kyi's travels around the country have landed her in trouble with the Burmese authorities several times in the past, and the 65-year-old said she had not been given any security guarantees for the trip.