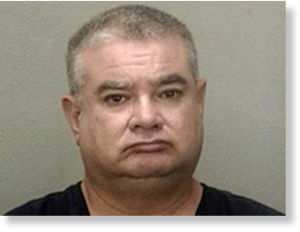 A Miramar, Florida police captain is being investigated by the department over allegations that he insisted that a 15-year-old girl strip in front of him so he could inspect her body to make sure she wasn't having sex.
Miramar Police Capt. Juan De Los Rios, 46, is free on bail after being arrested on Friday over lewd conduct charges stemming from a January 18 incident.
According
to the victims - a 15-year-old girl and a 19-year-old male - Capt. De Los Rios approached a parked car the teens were in earlier this year, interrogated them and then insisted that the female passenger disrobe and demonstrate to the officer that she was not having sex.
The two teenagers say that they were parked outside of a Miramar, FL industrial complex when a man dressed in dark blue and brandishing a gold badge approached their car and began questioning them through the window.