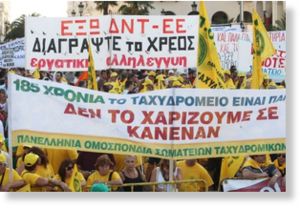 More than 12,000 protesters marched Saturday against fresh austerity measures the Greek government has prepared to win another slice of an international bailout loan.
As auditors from Greece's international creditors inspected the government's books, four separate marches took place in the northern city of Thessaloniki.
"The Greek people can't take any more," read one banner. A number of ambulances joined the demonstration: hospital workers are among those hit, both by salary cuts and reduced public spending.
"Very soon, the vast majority of the Greek people is going to react," said Alexis Tsipras, leader of the main opposition radical Syriza party, currently riding high in the polls.
Prime Minister Antonis Samaras is leading the country towards a catastrophe, he warned.
After the main demonstrations, about a thousand activists confronted police near the university in the city centre.
The police, pelted with projectiles, responded with volleys of tear gas and stun grenades before charging the crowd and scattering them.
The main trade unions, opposition parties including the Syriza party and communist activists all joined the protest, and police put the turnout at more than 12,000.