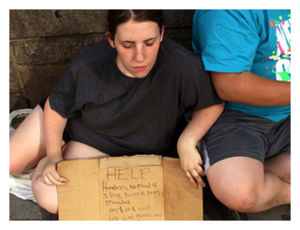 The number of homeless students in America topped one million for the first time last year as a result of the economic recession, a number that has risen 57 percent since 2007.
The US Department of Education found that of these 1,065,794 children, many lived in abandoned homes, cheap hotels, stations, church basements and hospitals. Some spent their time sleeping over at the houses of various friends whenever they could. Others fell victim to drugs and sexual abuse, in some cases trading sexual acts for food, clothing and shelter or selling illegal drugs.
The McKinney-Vento Homeless Assistance Act of 1987 requires pubic schools to register homeless children. The Department of Education report was only able to compile data from those currently enrolled in school, which indicates that there may be many more homeless children or infants living on the streets without an education.
The southern US state of Georgia has in recent years always had the highest number of homeless children. As many as 45,000 homeless kids and teens are on the street or in a temporary shelter each night in Georgia, 14,000 of which are in Atlanta.
But the states that reported the largest year-to-year increases in the June report were Kentucky at 47 percent, Utah at 47 percent, Michigan at 38 percent, West Virginia at 38 percent and Mississippi at 35 percent. In Michigan, where unemployment is above the national average, every county reported an increase in the number of homeless students.