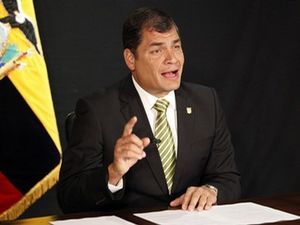 The Ecuadorian government decreed the implementation of price controls on 46 food products to combat "speculation", it was announced Monday, a measure that was rejected by the country's main business federation.
The decree was signed by President Rafael Correa last Friday, but was only made public Monday.
Once the new regulation enters into force by being published in the Official Registry, officials of various ministries will have to establish reference prices to guarantee "fair access to indispensable foods" and to "control speculation", the document states.
A law approved in 2011 gives the government authority to establish "exceptional and temporary" pricing policies for the benefit "of popular consumption", according to the decree, which does not say how long the controls will be in effect.
The president of the Federation of Chambers of Commerce of Ecuador, Blasco Penaherrera, said that the measure will be "damaging" for the economy, given that price controls "exaggerate the informal (economy) and create black markets".