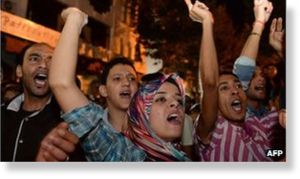 A Spanish child rapist freed from a 30-year-sentence in Morocco last week has been arrested in Spain, officials say.
Daniel Galvan Vina, who had been freed as part of a broader royal pardon, was detained in Murcia, police said.
Moroccan officials said his release was a mistake, and King Mohammed had been unaware of the nature of his crimes. The king has since sacked the head of prisons and rescinded the pardon.
Galvan, was convicted of raping 11 children, aged between four and 15.
He was sentenced to 30 years in prison in September 2011.