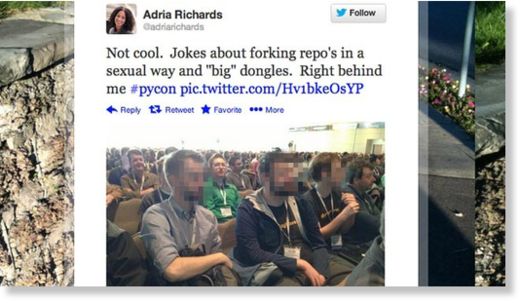 Offensive jokes whispered at a tech conference last Sunday night have now spread much further than anyone would have ever thought.
While at the PyCon technology conference last weekend, Adria Richards, a software developer and self-described technology evangelist, overheard two men behind her making a series of offensive and sexual jokes about "dongles" and "forks."
"They started talking about 'big' ad dongles. I could feel my face getting flustered," Richards
wrote
on her blog titled "
But You're a Girl
." "I was telling myself if they made one more sexual joke, I'd say something. Then it happened ... the trigger."
Richards didn't turn around in her seat and talk to the two men. But she did speak up on the Internet. She snapped a photo of the two men and tweeted it: "Not cool. Jokes about 'forking' repo's in a sexual way and 'big' dongles. Right behind me #pycon pic.twitter.com/Hv1bkeOsYP."
Richards then tweeted at the PyCon account, and as a result, the two men were removed from the conference.
That was just the start of the impact of those tweets. Later in the week, one of the men, whose name has not been revealed, was fired from his job at Playhaven, a mobile gaming company.