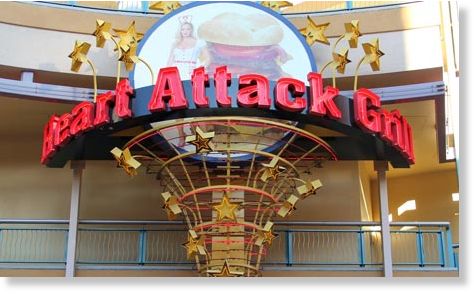 John Alleman, 52, collapsed at bus stop outside restaurant that sells burgers, fries and drinks with huge calorie counts
The mascot for the Heart Attack Grill in Las Vegas has died of a heart attack. He was the second unpaid mascot to die in the past two years.
John Alleman, 52, collapsed while waiting at a bus stop in front of the diner last week. He was taken off life support on Monday, the Las Vegas Sun reported.
The diner is famous for its huge hamburgers, extra-fat milkshakes and fries cooked in lard. It uses the tagline: "Taste worth dying for."
Its owner, Jon Basso, told the Sun that Alleman came to the restaurant daily and encouraged passing tourists to try its calorie-laden offerings.