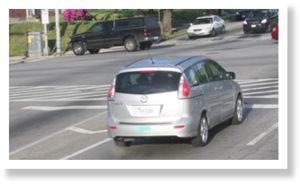 The City of Baltimore recently issued a ticket to Daniel Doty for speeding 38 miles per hour in a 25-mph zone - but photos and video captured by the speed camera system showed that his car was stopped at a red light at the time.
Doty
told The Baltimore Sun
that photos included with the ticket issued on April 24 made it "shockingly obvious" that his four-door Mazda wagon stopped at a red light with the break lights on. A three-second video clip provided as evidence also showed that Doty's car was motionless as he waited for the light to turn green.
"It was like someone was so obviously asleep at the switch," Doty explained. "I thought that was not supposed to happen."