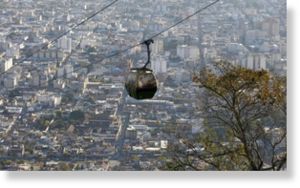 Two French female tourists were shot to death in northern Argentina, where they were found by local hikers, according to authorities.
"They are two Frenchwomen, found shot to death in a touristy area of Salta province," Judge Martin Perez told TN television on Saturday.
The bodies of the women, both 30, were spotted Friday by hikers near San Lorenzo hill, west of the provincial capital, the judge said. The hiking area popular with tourists leads to an observation point offering a panoramic view of the city and surrounding area.
"Salta needs to clear up this appalling crime immediately," Governor Juan Manuel Uturbey said at a press conference at his office.
Uturbey said the victims' identities were known but he did not immediately announce them, though police sources told
El Tribuno de Salta
newspaper the women were Houria Moumni and Cassandre Bouvier.