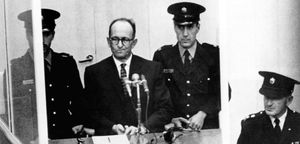 Document Find Hailed as Sensation
West Germany could have hunted down Adolf Eichmann, the chief organizer of the Holocaust, as early as 1952, eight years before Israeli agents caught him in Buenos Aires, according to a newly released document that suggests postwar Germany was unready and unwilling to put him on trial.
The revelation has been described as a sensation, and it sheds light on West Germany's reluctance to confront its past in the decades following the Holocaust.
A secret service document obtained by the German mass-circulation daily Bild from the archives of the BND, the country's foreign intelligence service, shows that the BND knew the location of the Adolf Eichmann, the biggest Nazi criminal still at large at the time, as early as 1952 -- a full eight years before he was caught in Buenos Aires by Israeli agents. He was put on trial in Israel, found guilty of crimes against humanity, and hanged in 1962.
The typewritten file card states that Eichmann was living in Argentina under the alias Clemens. "The address of E. is known to the editor-in-chief of the German newspaper in Argentina 'Der Weg'," the card says.
In fact, Eichmann lived in Argentina under the pseudonym Ricardo Klement. Bild took legal action to force the BND to release some classified documents relating to Eichmann, and found the file card among them.
Until now, the earliest date that Western intelligence agencies are known to have been aware of Eichmann's location was 1956, said German historian Bettina Stangneth, who described the finding as a "sensation."
It is not known whether the BND acted on the information it had in 1952. But assuming the service wasn't incompetent and didn't botch the search for Eichmann, the most likely explanation for the failure to arrest him was a lack of political will in West Germany to put him on trial, she said.