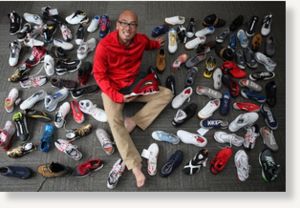 Chinese athletic shoemaker Li-Ning knew it couldn't "out-Nike" Nike, especially in the sporting giant's own backyard. So the company is going low-budget edgy in its expansion to the U.S, using an irreverent YouTube video to play up its heritage while taking a lighthearted dig at the company name shared with its high-profile founder.
Li-Ning is among the first Chinese consumer product brands trying to build a following in the U.S., seeking to grab a slice of its saturated but highly coveted market. As China's economic might increases - it last year overtook Japan as the second-biggest economy after the U.S. - its companies are increasingly confident about expansion overseas. But corporate China has yet to produce a brand with the global name recognition of the likes of Apple, Sony or Google.
"It's a process of finding out - while staying true to our heritage, our brand - what side of our DNA is going to resonate with the American consumer," said Jay Li, general manager for Li-Ning International. "We're still searching, to be perfectly honest with you. And we're not in a hurry."
Americans might remember Li Ning (pronounced lee-NING) as the final torchbearer during the opening ceremony of the 2008 Beijing Olympics - the former gymnastics gold medalist who "ran" along the opening in the stadium roof while suspended by wires.
His namesake company is a top domestic brand in China's lucrative athletic shoe and apparel industry, with more than 7,900 stores across the country. Though it has forecast slumping sales and a one percentage point decline in gross profit margin in 2011, CEO Zhang Zhiyong recently told the Wall Street Journal that Li-Ning plans to invest $10 million in U.S. operations this year.
"Our founder Mr. Li Ning has always said his vision was never about building China's Nike, it's about building the world's Li-Ning," Li said. "You can't be global without having a legitimate claim of market share in the most mature sporting goods market."
There are significant hurdles to overcome: Americans are still smarting from the recession and spending less. Chinese goods are widely regarded as shoddily made, knockoffs or even dangerous. Li-Ning's logo recently underwent a redesign, but many consumers may still see a strong resemblance with the Nike "swoosh."