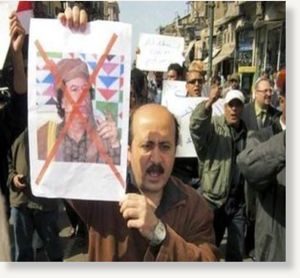 Libyan strongman Muammar Gaddafi will fight a popular revolt to "the last man standing," one of his sons said on Monday as people in the capital joined protests for the first time after days of violent unrest in the eastern city of Benghazi.
Anti-government protesters rallied in Tripoli's streets, tribal leaders spoke out against Gaddafi, and army units defected to the opposition as oil exporter Libya endured one of the bloodiest revolts to convulse the Arab world.
Gaddafi's son Saif al-Islam Gaddafi appeared on national television in an attempt to both threaten and calm people, saying the army would enforce security at any price.
"Our spirits are high and the leader Muammar Gaddafi is leading the battle in Tripoli, and we are behind him as is the Libyan army," he said.